Pontiac Auto Repairs and Maintenance in Iowa City
Dave & Pat Seydel Auto & Truck Pro Mechanics for American cars, SUVs, and trucks
Visit Dave & Pat Seydel Auto & Truck, located in Iowa City, IA, 52240, and our team of well-trained Pontiac service technicians will be able to assess your Pontiac's situation. We take pride in knowing everything about your Pontiac vehicle. This allows us to provide the best services available at affordable prices.

Pontiac is a brand that was discontinued amid the Great Recession and the bankruptcy of General Motors. The brand was a sporty off-shoot of the automaker, taking platforms from GM's global portfolio and molding them into American sports cars of varying levels and performance combinations. The brand was able to not only differentiate itself from the competition, but from other brands GM offered in the U.S. Before its demise, the brand had created a rabid following, which is why many vehicles are still on the road today.

Your Pontiac vehicle, new or used, will need to have maintenance or repairs completed during your ownership. There will always be general maintenance needs, however, you could see problems with the engine, interior fit-and-finish issues over the life of the vehicle or transmission, depending on the model and year of the vehicle.

Pontiac Vehicles Fixed At Affordable Prices

Dave & Pat Seydel Auto & Truck has a knowledgeable and friendly staff ready and waiting to fix your Pontiac vehicle and get you and your car back on the road as soon as possible. Dave & Pat Seydel Auto & Truck prides itself on offering affordable and efficient repairs that get you back on the road without breaking your wallet. We are waiting to service all your Pontiac needs. Give us a call at 319-351-6805. You can also stop by our service center to meet our inviting staff, which is waiting to help you with all your Pontiac needs.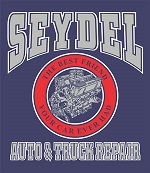 Great Guys!
Iowa City, IA
Pat and Dave are the auto mechanics everyone wants: In addition to being great guys, they tell you exactly what the issues are, how much repairs would cost, whether the repair is necessary or something a driver can live with, and whether it's worth making repairs at all. I've been taking all our vehicles to them for 10 years and have always been satisfied. The location is also convenient if one works at the University of Downtown Iowa City, as it is a leisurely 15 minute walk away.
Stephen Vlastos
, 09/22/2020